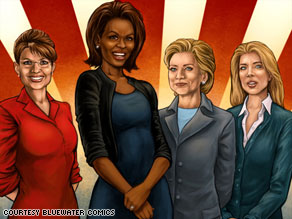 An impressively dopey article on CNN.com alerts us to the news that Washington-based publisher Bluewater Productions has released a series of comic books featuring Secretary of State Hillary Clinton and Alaska Gov. Sarah Palin.
"We really want to show strong, independent, female role models in comics," said Darren Davis, Bluewater's president, who didn't explain how Palin got on that ticket, either. The first two issues in "Female Force," already out, feature Clinton and Palin. Up next: Caroline Kennedy — huh? – and Michelle Obama. (Well, we know she's got guns.)
"Comic fans approve of the idea," note the not-so-ace reporters. To wit: "'I think it just says, like, that women are important,' one comic book fan told CNN.'" (Quoth our tipster, "Who's doing this sourcing, Judy Miller?")
And: "Another [!] added, 'It shows that comics aren't just about guys in tights beating each other up — it's about information, it's about understanding people a little better." ("It's about information"? This is a job for…The Quote Puncher-Upper!)
Plus: "We're in a very politically-minded time right now," said Richard Laermer, CEO of a public relations firm and author of several books on banalities marketing.
We "fans" well know that comics are by no means only about "guys in tights beating each other up" in the first place. But, dopey piece notwithstanding, Female Force's fare could totally be good, you know, if it's good. But honestly, I'm already impressed enough with [most of] these women in real life.