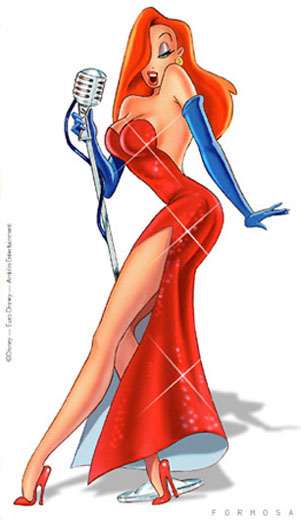 Okay, it's all a blur. Earlier this month, I reported that men — definitively! (at least according to SCIENCE) — were most drawn to brunettes. Then BG found even more current research that confirmed the old chestnut about blondes. And now there's more breaking news on the hue front.  According to ScienceDaily, a new study reveals that "the color red makes men feel more amorous toward women." That's red as in plumage — like Jessica Rabbit's dress — not her hair. In other words, if you thought the world lacked enough pop songs, famously lipsticked kissers, other iconic red dresses and more pop songs to prove it, now we've got the scientific stats to back it up. Kinda the same way we figured out the sky is blue.
But speaking of woodland creatures: "Although this aphrodisiacal effect of red may be a product of societal conditioning alone, the authors argue that men's response to red more likely stems from deeper biological roots. Research has shown that nonhuman male primates are particularly attracted to females displaying red. Female baboons and chimpanzees, for example, redden conspicuously when nearing ovulation, sending a clear sexual signal designed to attract males…findings confirm what many women have long suspected and claimed — that men act like animals in the sexual realm. As much as men might like to think that they respond to women in a thoughtful, sophisticated manner, it appears that at least to some degree, their preferences and predilections are, in a word, primitive."
[OK, but you know what? Humans are animals. Just ONCE, I'd like to see a study like this that didn't "conclude," with great sciencey fanfare, "See? Men ARE animals!" — BG, seeing red.]
Here's my logic problem. A guy has to choose between a brunette in a red sweater and a blonde in an ivory sweater. Uh oh! Now who's the belle of the ball? Something tells me this isn't so black and white. Jessicas and Rogers: what's your take?
Rose Martelli and Maria Burnham also contributed to this post.